Products on the Master Sheet can now be identified with an optional category. Categories are for your internal use, and do not appear on retailer quote sheets.
Click on the category field to open the popup window (as seen below).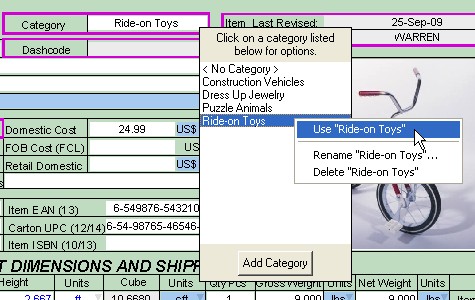 To create a new category, click the Add Category button at the bottom of the window. Type a name for the new category, and click the OK button.
Categories you have added will appear in a list when the popup window opens. To select a category for this product, click on one of the categories listed and choose the Use option.
If you wanted to rename a category, select the a category from the popup list and choose the Rename option. The name will be changed automatically on all products set to that category.
If you wish to permanently delete a category, select the category from the popup list and choose the Delete option. This will delete the category from all products that reference it.