The Create Custom Quote Sheets window lists all the existing custom quotes that have been created. This list helps you avoid naming conflicts with existing custom quote sheets. In the example below, you could not use the name "XYZ RETAILER" as this would conflict with an existing custom sheet. If you did attempt to create a sheet named "XYZ RETAILER", the existing sheet in the list would highlight in red and you would be unable to proceed.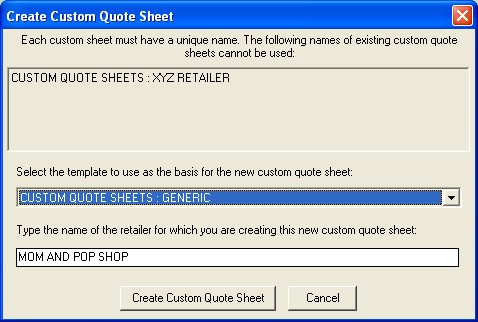 Select from the templates provided using the drop-down menu (for example, the "Generic" template). Type a name for the new custom quote sheet and click the Create Custom Quote Sheet button. Once the custom quote sheet has been created, you can select it from the Retailer drop-down menu listed under the "Custom Quote Sheets" group.

Special Tip! If you are connected to a Speed-Quote server, any custom quote sheet you create will be submitted to the server and visible to all the other users on your network.