If you are not connected to a Speed-Quote Enterprise Edition network server, the program will ask you to create an initial database.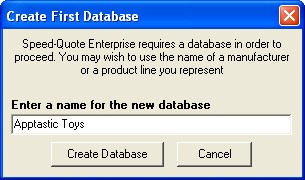 If you are a manufacturer or factory, you will probably only require one database (ie. all items will be entered into this database). If you are a sales agency or have many product lines, you may want one database for each manufacturer or line you represent.
The creation of multiple databases will be explained later. For now, enter either your company name (for manufacturers) or the company name of one of the lines you represent (for sales agencies).
Once you have entered the database name click the Create Database button.

Special Tip! System administrators of the Speed-Quote server can create new databases using the "Speed-Quote Server Admin" application. A variety of database level user access permissions can also be set using the admin application.