Create New Database makes a blank Speed-Quote database.
The Create New Database window lists all the databases. This list helps you avoid naming conflicts with existing databases. In the example below, you could not create a new database named "Apptastic Toys" or "Fastrack Learning Toys". If there is a naming conflict, the existing database listed will highlight in red and you will be unable to proceed.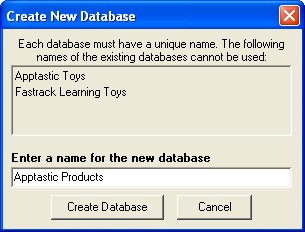 Type a unique name for the new database and click the Create Database button.

Special Tip! System administrators of the Speed-Quote server can create new databases using the "Speed-Quote Server Admin" application. A variety of database level user access permissions can also be set using the admin application.