Many sheets require loads and rates, and the Master Entry Sheet is one such example. Click the Update loads and rates button on the main toolbar, or select this option from the Format menu.
In the case of the Master Entry Sheet, the rates are for container volumes. By default Speed-Quote sets the container volumes to common sizes, but you can change them to suit your requirements.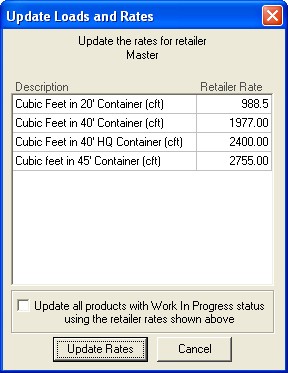 Type in the Retailer Rate column to change the values. When you click the Update Rates button, the rates you entered will be used for any new products you create. However, the rates will not be changed for existing products on the Master Sheet. If you want to apply the updated rates to all the Master Sheet products, checkmark the Update all products with Work In Progress status option at the bottom of the window.