Some of the fields on Speed-Quote forms are not changed by typing in them. Instead some fields will popup a list of options when clicked (or when you attempt to type into them).
On the Master form, for example, the field "Is Item Prepriced?" can be filled by clicking on the box and selecting the Yes or No option from the popup window (as seen below).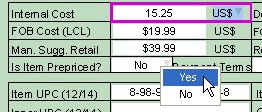 Special Tip! Popup windows will also appear any time you try to type into a popup field. If you prefer using the keyboard, you can move up or down the popup list with the arrow keys. You can then select the highlighted option by pressing the Enter key. Alternatively, you can quickly select an option in a popup field by just typing the first letter (in this case Y or N).