Products can be grouped by selecting Product Batch from the Edit menu. From the Product Batch sub-menu there are 4 options: Load Batch, Clear Batch, Create Batch, and Add/Remove Batch Products.
Create Batch first requests a name for the collection of products. Type a name for the batch, and click the Create Batch button (or press the Enter key).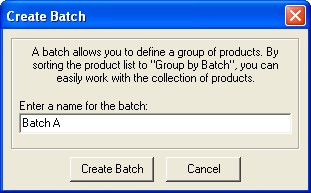 A window will appear with a list of all available products. Checkmark all the products that you wish to be included in the batch, and click the Add Selected Products to Batch button. From the Save Batch File window, select a location on your hard drive where you can easily find the file. Type a name for the batch file, and click the Save button. The newly created batch file will be saved, and it will also become active and remain in effect until another batch file is created, loaded, or the current batch is cleared.
Load Batch displays a file requestor window to load a previously created batch file. Locate the desired batch file on your hard disk, and click the Open button. The batch file will become active, and will remain in effect until another batch file is created, loaded, or the current batch is cleared.
Clear Batch deactivates any currently loaded batch.
Add/Remove Batch Products becomes available when a batch is active. This allows you to modify what is included in the batch by checking or unchecking products. You can then re-save the batch with the modified product selection.

Warning! Batch files hold a list of model numbers and dash codes for selected products, but they do not contain any product data.
When the Product drop-down menu is sorted to Group by Batch, it is easy to work with all the products identified in the batch. Batch files are a great way to organize and work with a subset of products, and you can also e-mail batch files to your co-workers.

Special Tip! Batch files can also be created using the Find a Product feature. Click with the right mouse button on the find sidebar to create a batch file from the products listed (see Find a Product instructions for more information).