Speed-Quote Enterprise Edition will periodically remind you to update from the internet. When a specified amount of time has elapsed since the last update, the following reminder window will appear:

Click the Update button to proceed with the internet update immediately (recommended), or you can click Cancel. If you choose to cancel the update, you will be presented with the option to schedule another reminder: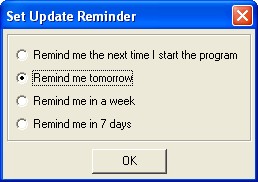 Select a reminder option, and click the OK button. The interval for the last reminder option (as shown above "Remind me in 7 days") can be modified using the preferences settings within Speed-Quote. For example, if the reminder interval in the preferences was set to 3 the last option in the window above would be "Remind me in 3 days".
Please refer to Updating Speed-Quote for more information about internet updates.

Special Tip! Updating from the internet is disabled while connected to a Speed-Quote network server. The server performs the internet updates, and distributes any new quote forms and software to you automatically. However, if you are a laptop user that disconnects from the server to go on the road (in "Briefcase Mode") you will need to perform internet updates.

Warning! It is very important to update Speed-Quote Enterprise Edition from the internet on a regular basis. Retailers may release new versions of their quote forms, and the Speed-Quote software is updated periodically. By doing internet updates you will insure that your copy of Speed-Quote always has the latest quote forms, software, and rates from our partner retailers.