If you are connecting to a Speed-Quote network server and your computer has local databases, you will be asked if you wish to stay in Briefcase mode or connect to the Network.
You will have local databases if this is a laptop computer that has been in Briefcase operation (disconnected from the network while on the road), or if this is your first time connecting a stand-alone installation to the Speed-Quote server.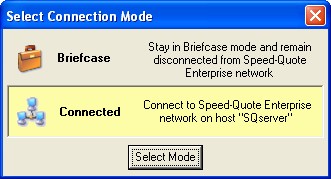 If you wish to keep working on databases without connecting to the Speed-Quote network server, select the Briefcase option. If you wish to connect to the Speed-Quote network server, select the Network option. After making your selection, click the Select Mode button.
If you selected the Network option, Speed-Quote will need to compare the databases stored on your computer with the databases stored on the server.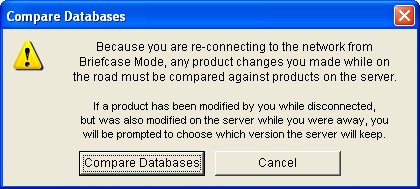 Click the Compare Databases button to proceed with synchronizing.