The Updates tab of the Preferences window provides options for connecting to the internet. Speed-Quote must connect to the internet in order to update with the latest quote forms, software, and rates for partner retailers.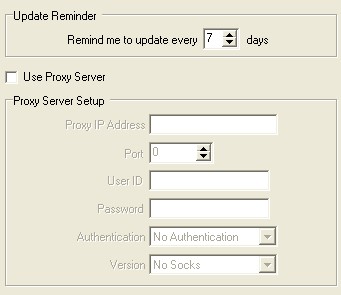 Speed-Quote Enterprise Edition will periodically remind you to update when you first run the program. The Update Reminder setting determines the number of days between such reminders.
Depending on your connection, you may require proxy server information in order to access the internet. Please see your system administrator for proxy server settings.

Special Tip! Updating from internet is disabled while connected to a Speed-Quote network server. The server performs the internet updates, and distributes any new quote forms and software to you automatically. However, if you are a laptop user that disconnects from the server to go on the road (in "Briefcase Mode") you will need to perform internet updates.

Warning! It is very important to update Speed-Quote Enterprise Edition from the internet on a regular basis. Retailers may release new versions of their quote forms, and the Speed-Quote software is updated periodically. By doing internet updates you will insure that your copy of Speed-Quote always has the latest quote forms, software, and rates for our partner retailers.