Delete will completely erase the selected database.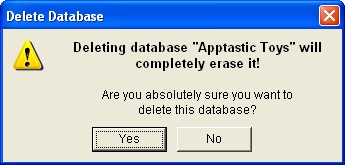 Click the Yes button to erase the database and remove it from Speed-Quote.

Special Tip! You cannot delete a database that is currently in use. If you are connected to a Speed-Quote network server, you cannot delete a database if any user on the network is working with it.

Warning! The delete database function will erase a database and everything it contains - including the Master Entry Sheet information, pictures, and all retailer products! Be absolutely sure before deleting!