Duplicate makes a copy of an existing database.
The Duplicate Database window lists all the databases. This list helps you avoid naming conflicts with existing databases. In the example below, you could not create a duplicate database named "Apptastic Toys" or "Fastrack Learning Toys". If there is a naming conflict, the existing database listed will highlight in red and you will be unable to proceed.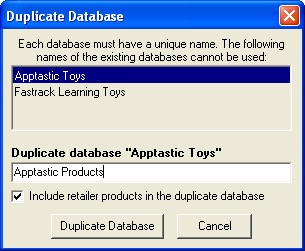 Checkmark Include retailer products in the duplicate database, otherwise the duplicate database will only contain product information from the Master Entry Sheet.
Type a unique name for the duplicate database and click the Duplicate Database button.

Special Tip! Some Speed-Quote users like to keep a separate database each year (so their database only includes products for the current season). An easy way to clear out the retailer products for last season (while preserving the Master Entry Sheet information) is to use the Duplicate Database feature without checking the Include retailer products in the duplicate database option.