Load Database File imports a database from a compressed Speed-Quote file. The database file to load must be in Speed-Quote .SQZ format (created using the Save to File feature).
From the Load Database File window, select a compressed database file (.sqz) from your hard drive and click the Open button.
If the database being loaded already exists, the Name Database window will appear. This list helps you avoid naming conflicts with existing databases. In the example below, you could not load a database named "Apptastic Toys" or "Fastrack Learning Toys". If there is a naming conflict, the existing database listed will highlight in red and you will be unable to proceed.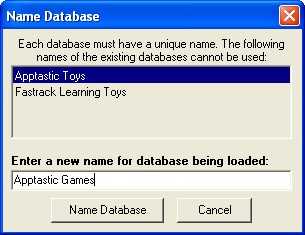 Type a unique name for the database and click the Name Database button.