Select Output Master Data to XML to create an XML formatted file from products on the Master Entry Sheet.
From the Save XML File window, select a location on your hard drive where you can easily find the file. Type a name for the XML data file, and click the Save button.
Next you will be asked if you wish to Include pictures and Create XML tags for fields without data.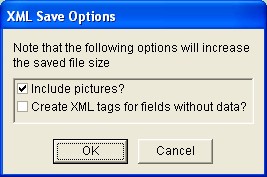 To save product pictures in the file, check the Include pictures option.
You will also be asked if you want to create XML tags for fields without data. Creating tags for fields without data will increase the resulting file size. When an XML has tags for fields without data, these blank fields will overwrite any information on matching products during import using merge (regardless of which merge method is used).
If you chose Output Master Data to XML -> Selected Products, a window will appear allowing you to checkmark all the products you would like to save in the XML file.

Special Tip! Extensible Markup Language (XML) is a simple, very flexible text format derived from SGML (ISO 8879). Originally designed to meet the challenges of large-scale electronic publishing, XML plays an important role in the exchange of a wide variety of data on the Web and elsewhere.