If you are connected to a Speed-Quote network server, and if the computer is a laptop that you take on the road, on exit of the program you will be presented with the option to go Briefcase or to stay connected to the Network (as shown below).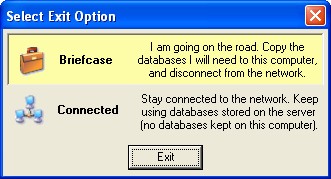 Special Tip! The Select Exit Option window will only appear on exit if the Preferences for Networking are set to allow Briefcase mode. This preference setting tells Speed-Quote that the computer is a laptop and may use Briefcase mode (disconnect from the network server to go on the road).
If you intend to leave the laptop connected to the network, or do not need to work with Speed-Quote when disconnected, select the Network option.
If you intend to go on the road and will be using Speed-Quote, select the Briefcase option. You will be asked to select which database you will require while on the road (as shown below).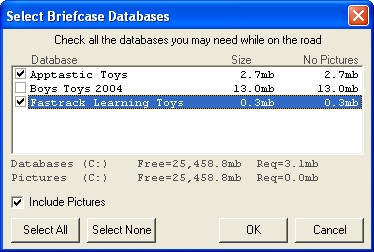 Checkmark all the databases you may use while disconnected from the Speed-Quote network server. If you wish to have pictures available, checkmark the Include Pictures option (highly recommended). You can see from the statistics listed the space available on your hard drive, and the sizes needed to store the databases and pictures. You must have sufficient hard drive space available in order to proceed. To continue, click the OK button.
The selected databases will be copied from the Speed-Quote network server onto your computer. Once this process is complete, and Speed-Quote has exited, you are ready to disconnect your laptop and go on the road.
When you return to the office and reconnect to the Speed-Quote network server, the databases will be transferred back into the server and removed from your laptop hard drive. Any changes you made while on the road will be integrated with the databases on the network server (see Synchronizing to Server instructions for more information).

Warning! After disconnecting, you should always run Speed-Quote again to insure that all the database information has been transferred correctly. It is much better to discover any problems while you are at the office, instead of reaching your business destination to discover that you are missing all your information!

Special Tip! It is possible to configure Speed-Quote to read pictures from external media (such as a DVD or CD) instead of using space on the laptop hard drive. This can be useful in instances where you have extremely large picture databases that are fixed (ie. the pictures do not frequently change). If you feel this configuration is applicable to your situation, please contact Apptastic Software technical support for assistance.