The View Product Differences window (selected from the Compare Databases window) allows you to see the distinctions between the product in your local database and that stored on the server.
To view the product stored in the server's database, click the Use Server Version button. Fields with a background color of yellow indicate that the value differs between the local and server versions. For example, the FOB Cost (LCL) shown below ($11.25) is highlighted in yellow.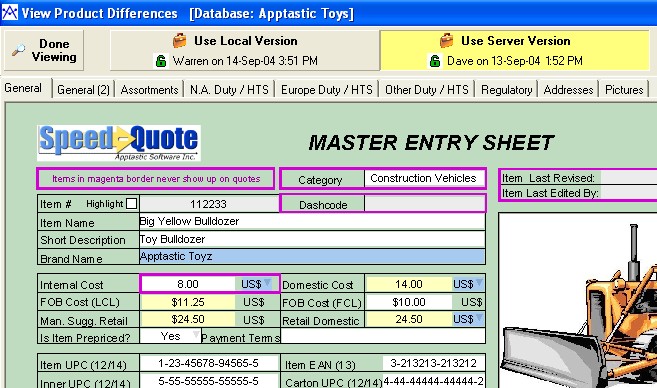 To view the product stored in your computer's local database, click the Use Local Version button. Note that the local FOB Cost (LCL) shown below is again highlighted in yellow to indicate a difference. As we can see, the local value is $11.45 rather than $11.25 on the server. By flipping between the local and server versions and watching the yellow fields, you can quickly see what has changed on the server while you were on the road.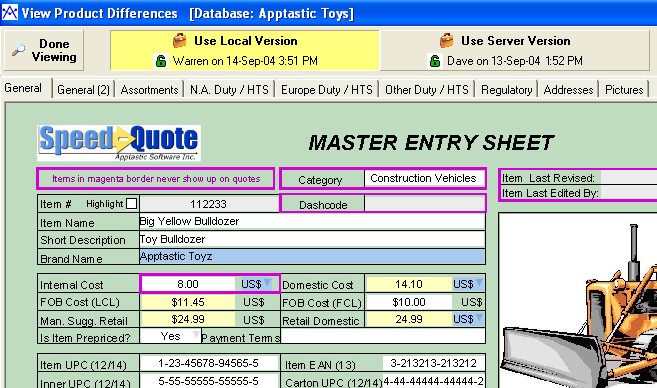 You must now choose which version will be used. In the example above, we can see that the local version was changed by Warren on 14 September 2004 at 3:51 PM. While Warren was on the road using the database on his laptop, Dave was at the office working on the server version. We can see that Dave made changes to the product on 13 September 2004 at 1:52 PM. Before choosing which version to keep, Warren may wish to contact Dave to find out why these costing changes were made while Warren was away from the office.
When finished selecting the version to keep, click the Done Viewing button at the top left of the window.

Special Tip! With consistent business practices, conflicts such as the one illustrated above should rarely happen when synchronizing databases.