Midway down the first page of the Master Entry Sheet you will find the Dimensions, Shipping and Costing Information area (as shown below).

You will notice that the some of the text in the dimensions is colored blue. Blue text means that this field causes a calculation to occur. In this case, the dimensions are used to calculate the cube. The master dimensions and quantity pieces, along with the container volume (set in the Loads and Rates window), are also used to calculate the container quantities.
The units of measurement are set using popups. As you change the measurement type, the dimensions are automatically converted to the new units (as shown below).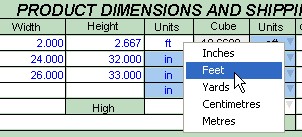 You'll notice that the background color of the units boxes is light blue. This shows that the units have been set to a default value. Speed-Quote starts with defaults set to use imperial units. These default unit settings will be applied whenever you create a new Master product, but any changes you make manually from that point will be used.
If you prefer to use different units of measurement, click on the unit and use the popup menu to change it. You can then click with the right mouse button, and set the new unit as default (refer to the Setting defaults instructions for more information). From this point on, whenever you create a new Master product it will begin with the default units set.

Special Tip! You can use whatever units of measurement you are most comfortable with on the Master products, as these units will be converted automatically on retailer products as necessary. For example, if your Master products are in imperial, but a retailer quote form requests metric, all measurements will be automatically converted.

Warning! You must always enter Master pack measurements, weight, and number of units/master for every product. This information is used by Speed-Quote for important calculations. If you leave these fields blank the cube, ocean freight, and landed costs may be incorrect! Even if your item is not shipped in a master, you must still fill in these fields using your unit measurements and weights.